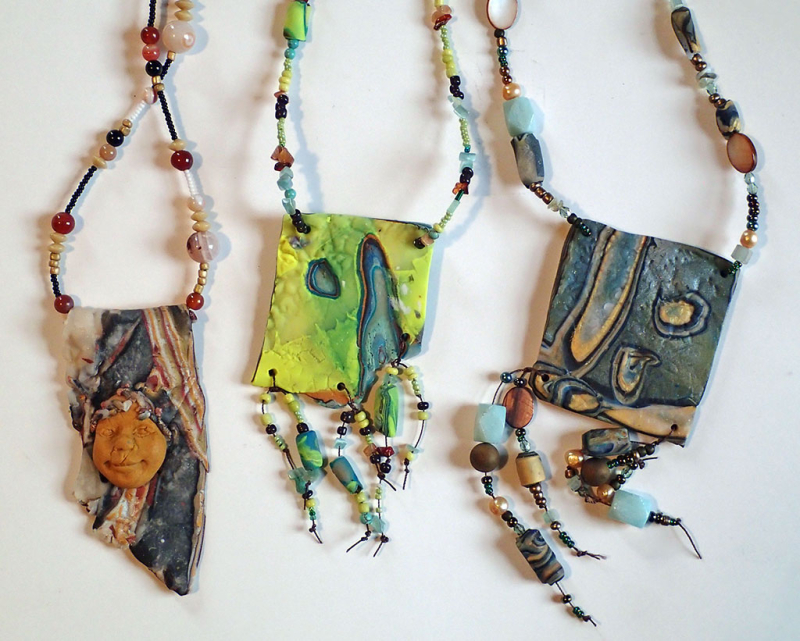 Creating Polymer Clay Jewelry
with Kay Vandervort
$5500
Wednesday, August 26, 2020
1:00 PM - 4:30 PM
Tuition: $35  Materials: $20
Polymer clay can be used to create decorative pottery, wall decor, jewelry, and figurines. It is easy to work with and does not require any equipment other than what you would find in your kitchen. You will learn how to prepare the clay and blend layers and colors to create your own unique color combinations and designs. You will make jewelry components such as pendants, matching beads, and shapes limited only by the imagination.
You will complete a polymer clay necklace, choosing materials that Kay has organized by color theme. Additional polymer clay necklace kits will be available for purchase at a special student rate.
Kay will be wearing a mask while teaching and all participants will be asked to do so also. Additional COVID safety precautions will be in place including hand-washing and appropriate social distancing.
About the instructor: Kay Vandervort says, "As children we could get out of doing dishes if we read. We read a lot. And, we could watch television if we had a project we were working on while we watched. Hence, all my life I have gotten into the habit of having a lap project---jewelry making, embroidery, sewing, or experimenting with a variety of artistic medium."
Kay has a degree in secondary education and taught both in high school and technical college before moving to a career in not-for-profit management. Kay enjoys experimenting with many types of craft media, is a wizard with color and jewelry design, and has taught a variety of creative jewelry classes at the Ely Folk School.
Aug

26th

,

2020

Wed

from

1:00 am - 4:30 pm