Filter by Category
Winter Festival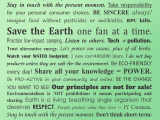 Sustainable Living: Open Forum
with Andy Hill

Aug 9, 2018 at 7 pm
Sustainable Living: Open Forum
Thursday, August 9, 2018
7:00 PM-9:00 PM
Tuition: Free

The Sustainable Living Forum will include presentations and discussion to extend your awareness and thinking about how to live more sustainable without costing you a fortune. There are many choices you can put in motion at little cost and little or no effort. Bring your ideas to share with others and watch them expand. Learn from Andy and from each other.
This is also an opportunity to ask questions about the appliances you are interested in installing; furnaces, hot water heaters, stoves, washer, dryers, heat pumps, water-fed air conditioners, refrigerators and freezers.
About the instructor: Andy Hill has been implementing creative sustainable living practices in his off-the-grid homestead and loves to share ideas and knowledge with others. He promises there will be no secrets! Andy has taught Sustainable Living classes and Northwoods Gardening at the folk school since its inception, and students appreciate his deep knowledge as a gardener and his positive and helpful teaching style.
Walnut Potica
with Mary Louise Icenhour

Aug 3, 2018 at 1 pm
Walnut Potica
Friday, August 3, 2018
1:00 PM -5:00 PM
Tuition: $40, Materials: $8
Learn how to make the reknowned pastry associated with Ely's Slovenian heritage. You'll make the dough, learn how to roll it just right, then create and add the walnut filling, and bake to take home your own delicious potica. Enjoy learning from Mary Louise Icenhour in our brand new teaching kitchen from her mother's recipe (Rose Mavetz). Bring your own rolling pin, Mary will provide all the ingredients.
About the Instructor: Mary Louise is an Ely native & retired teacher who loves to share her passion for traditional skills & teaches our Pine Needle Basketry, Apple Strudel, Pasty and Canning classes and serves on the Board of Directors.
Will run