Filter by Category
Potluck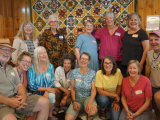 Potluck Celebration

Aug 22, 2021 at 4 pm
Sunday, August 22, 2021
4:00 PM - 7:00 PM 
The Ely Folk School Board is hosting a potluck celebration in honor of Betty Firth and her time serving as the Ely Folk School Program Coordinator. Join us in wishing Betty well in retirement! 
Bring a dish to share if you feel so inclined!
Registration is encouraged so we may be sure to bring enough food and refreshment for all!