Filter by Category
Poetry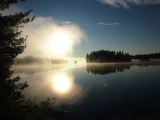 Morning Reflection Paddle
with Alexia Springer

Jun 25, 2021 at 7 am
Friday, June 25, 2021
7:00 AM - 9:00 AM 
Tuition: $25  Materials: $10
In this class we will canoe in silence as a group on Miners Lake. The goal is to be present, silently communicative with your boat partner, and reflective - whatever the morning brings you. The peace, stillness, and magic of the early morning hours speaks for itself.
You will also learn canoe terminology and basic strokes for maneuvering around a lake. As John Hayes and Alex Wilson write in their book Quiet Water: New Hampshire and Vermont, "The peaceful solitude of out-of-the-way lakes and ponds lures us to quiet-water paddling. … With quiet-water paddling, you can focus on being there instead of getting there."
Students should meet at the boat landing for Miners Lake at 7:00 AM, ready to go with a bag of necessities: snack, water, sunscreen, sunglasses, hat, etc. We will do a brief hello and introduction to each other and about the canoe before launching. Once in our canoes, we will huddle for a poetry reading and proceed to paddle around the lake silently. At some point, we will stop for brief reflections, followed by practicing and/or learning basic canoe strokes.
EFS Volunteers are donating clean canoes, paddles, and PFDs for this class. If you have your own gear, please bring it to ensure proper fit and comfort. You are welcome to bring your own canoe or kayak, so long as it is properly licensed. 
This class is being held outdoors. The Ely Folk School encourages students to receive a vaccine for the coronavirus prior to attending class, but it is not required. 
About the Instructor: Alexia Springer has a degree in Recreation, Parks, and Tourism from Radford University and has worked as an outdoor educator at various camps and universities, most notably Earlham College as the Outdoor Education Coordinator.
"One of my favorite activities on canoe expeditions is taking what we would call a "voyageur start" which meant waking up early, breaking down camp, and setting out into our canoes for the day in the early morning hours. Somewhere along the way I started incorporating a poem reading followed by silent paddling," Alexia says. 
Nature Writing for Women: Honor Autumn: Live Online
with DyAnne Korda

Oct 9, 2021 at 10 am
Saturday, October 9, 2021
10:00 AM - 12:00 PM 
Tuition: $26
As autumn's colorful landscapes peak, we pause to appreciate summer's bounty and embrace the season to come. Set aside one Saturday morning to discover the richness of your inner harvest through nature writing. This session is designed to celebrate the strong bond between women and the natural world. You will generate written pieces through free-flowing writing exercises and discussion within a supportive circle of women. Time permitting, you'll also have the opportunity to share a piece of writing that you find especially inspiring.
About the Instructor: Dyanne Korda is a poet and experienced writing instructor. Her work has been published in many journals including The Wisconsin Academy Review. She is author of several poetry and story collections including This Earth Woman, Path of Belonging, and Finding the Lost Woman.
Korda was awarded her second Individual Artist Grant through the Donald G. Gardener Humanities Trust and an Artist Access Grant through the Arrowhead Regional Arts Council to complete her most recent book, The Shore's Absolute Edge.