Filter by Category
Plant Walks
Kawishiwi Falls Plant Walk
with Jaime Brennan

Jul 11, 2019 at 9 am
Thursday, July 11, 2019
9:00 AM - 11:00 AM
Tuition: $20
Learning about the profusion of plants around us will enrich your life! Join Jaime Brennan, herbalist and health coach, as she brings you into the world of our local plants. During this class, we'll visit Kawishiwi Falls to identify plants, and their uses and benefits while enjoying a walk in a beautiful setting. Meet at the Folk School to carpool.
About the instructor: Jaime Brennan About the instructor: Jaime Brennan can always remember having a special relationship with the plants that grew around her. She began learning how to use them to improve her own health in 2006. Feeling the benefits of herbs, she wanted to share this knowledge with others and began offering classes and products. Her personal passion is to use her knowledge, experience, and different tools to help others create tranquility: a body in balance, a mind at ease, and a satisfied soul. To learn more about Jaime and what she offers, visit www.tranquilitywellness.center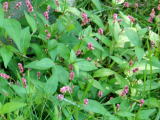 Minnesota Foraging - Common Medicinal Herbs
with Allie Austin

Jun 21, 2019 at 3 pm
Friday, June 21, 2019
3:00 PM - 5:00 PM
Tuition: $20  Materials: $25
Join us as we learn the basics of identifying, harvesting, and utilizing some of the most common medicinal herbs in Northern Minnesota. In this hands-on class, students will learn the basics of foraging local herbs- how to identify, harvest, dry, store, and use some of the most common medicinal herbs native to Northern Minnesota. This will be an in-classroom discussion as well as hands-on class- students will work with some freshly harvested herbs and will also learn to prepare some common remedies with them such as tincturing, teas, and infusions. Each student will take home their own herbal remedy made in class, and Minnesota Foraging Manual with photos, step-by-step instructions, and recipes!
About the Instructor: Allison Austin has been practicing herbalism for over 13 years. Her passion for plants and herbal medicine began in middle school, and has continued to play a central role in her life ever since. She has studied under herbalists in Minnesota, California, Texas, and with Mayan elders in Guatemala.
Allison is passionate about bringing the traditional practices of herbalism to people in a practical and accessible way, and encouraging people to utilize herbs in their local area to become more self-sustainable and take charge of their own health.