Filter by Category
Painting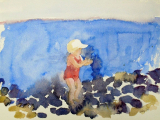 Painting Watercolor Notecards
with Holly Meeker Rom

Jul 15, 2021 at 1 pm
Thursday, July 15, 2021
1:00 PM - 4:00 PM 
Tuition: $36  Materials: $14
Have you ever wanted to create your own cards for that special occasion? You will learn about color mixing and watercolor techniques with brush, paint, and paper and will explore a variety of subject ideas. You will create individual, original notecards on paper and envelopes supplied in class.
Materials will be provided, but feel free to bring your favorite brushes or other watercolor supplies if you have them.
About the instructor: Holly Meeker Rom has worked in the watercolor medium professionally since 1980, and has taught drawing, watercolor and color theory for 40 years. Holly enjoys teaching and guiding students at all levels in the adventure of watercolor painting. She is inspired by the landscape of the lakes and forests of Ely, MN.
She has taught locally at the Ely Folk School, the Miner's Dry and the Art Corner. Holly's work can be viewed on her website, www.hollymeekerrom.com.
She has an MFA in painting from American University in Washington, DC, and an MA in Art Education from California State Univ. in Sacramento. She is a signature member of the Northwest Watercolor Society and The Catharine Lorillard Wolfe Art Club. She led art historical tours at the Metropolitan Museum of Art in NYC for 17 years in School programs. She has been a part-time resident of Ely, MN for 20 years. 
Traditional Swedish Folk Painting
with Kim Garrett

Jul 30, 2021 at 12 pm
Friday, July 30, 12:00 PM - 5:00 PM
Saturday, July 31, 9:00 AM - 5:00 PM 
Sunday, August 1, 9:00 AM - 1:00 PM 
Please note this is a three day workshop with varying start and end times each day. 
Tuition: $200   Materials: $30
Are you interested in learning about Swedish Folk Art? In this class we will explore the folk painting styles of northern & southern Sweden commonly called dalmalning & bonadsmaling. There are many regional styles, of which we will discuss their similarities and differences based on origins, cultural significance and materials used back in the 17th & 18th centuries. We will then mix our own paints to complete an individual project, based on the styles we have just learned.
All materials for this class will be provided. The student should wear clothing suitable to paint in and bring a notepad for taking notes and for planning their project.
 About the Instructor: Kim Garrett has been painting Scandinavian folk art for about 15 years. She has traveled to Norway and Sweden several times to study with folk artists there. Kim has won many blue ribbons at the Minnesota State Fair, including twice winning Best in Show. She has been teaching around the midwest for several years and started teaching via Zoom in 2020.