Filter by Category
Nutrition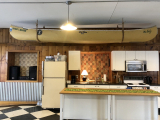 Elevate Your At-Home Cooking
with Hudson Ledeen

Aug 11, 2021 at 5:30 pm
Wednesday, August 11, 2021
5:30 PM - 8:30 PM
Tuition: $35  Materials: $30
The materials fee covers ingredients you will use to learn best practices and take home to craft a master meal!
Calling all at-home cooks! Learn how to maximize your home kitchen possibilities with this entry-level fundamentals and tricks-of-the-trade cooking class. Students will get hands-on experience practicing simple, professional kitchen skills in order to elevate their home-cooked meals.
Topics learned will include knife skills, temperature control, timing, mise en place, proper use of fats and acids, working with a variety of herbs, spices, and seasonings, and how using seasonal ingredients contributes to your best meals! 
Class participants will use these skills to prep for an outstanding dish they will prepare in their home kitchen. Everything learned can be carried forward into all your everyday cooking. 
Students should bring: a sharpened kitchen knife you are comfortable working with; kitchen towel; apron; food-safe containers to bring your prepped ingredients home; questions! Please note that this class will involve handling meat products; however, many of the skills learned are applicable to vegan and vegetarian cooking, as well. 
About the Instructor: Hudson Ledeen left a celebrated career of twelve years in the culinary world, where he excelled in creating menus and recipes using locally sourced products, as well as teaching and mentoring fellow cooks and chefs new to the field. Passionate about conservation, public lands and natural resources, he went back to school and earned his Applied Science Degree in Natural-Resources Technology. Hudson has a vast background when it comes to outdoor experiences. He's removed beaver dams, trapped and relocated bears, tagged migrating birds, worked as a fishing guide, canoe outfitter, fishery technician in Alaska, and is an avid hunter and angler. 
He is now working as the Community Coordinator for the Friends of the Boundary Waters Wilderness based out of Ely. At the heart of the Friends of the Boundary Waters Wilderness mission is the belief that the economic health and prosperity of the BWCA gateway communities are deeply connected with the future of clean water and the wilderness. Building partnerships and growing relationships throughout these communities is the focus of Hudson's work.
Today, Hudson uses his culinary skills to prepare creative and inventive meals for friends, family and community.
Mushroom Cultivation: Three Ways to Grow Gourmet Mushrooms at Home
with Nik Prenevost

Sep 11, 2021 at 11 am
Saturday, September 11, 2021
11:00 AM - 12:00 PM
Tuition: $25
Mushroom growing is gaining in popularity as people are better understanding the health benefits as well as the culinary value. Various mushrooms have peaked peoples interest for home cultivation. Growing shiitakes, lion's mane, wine caps and oyster mushrooms are an excellent way to easily grow mushrooms for your own consumption.
The class will cover three different methods to grow mushrooms year round. These three methods range from beginner to intermediate so anyone could participate, even kids! Mushroom growing is a unique experience that brings learning opportunities for growing your own food.
Grow your food. Eat your mushrooms.
About the Instructor: Nik Prenevost cultivated mushrooms at Mississippi Mushrooms LLC for seven years from 2012-2019 and is currently a consultant for growing mushrooms in the Twin Cities. 
"I believe in supplementing your diet with locally sourced food that you have grown yourself. It is the ultimate way to know what it is in your food and what inputs it took to grow it. Cultivating mushrooms is one of the most satisfying forms of growing food I have experienced, especially since the turn around is so quick in comparison to tradition garden growing plants. Fungal farming is an exciting adventure that keeps me learning new techniques to cultivate but also insights into how our own biome works. When I grow mushrooms, I feel so connected to the food source and the final dish tastes that much better. I want to help people learn through easy techniques to grow mushrooms and be apart of this growing trend."