Filter by Category
Nutrition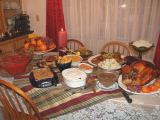 Healthy Through the Holidays Live Online
with Erika Barnhill

Oct 29, 2020 at 6:30 pm
Thursday, October 29, 2020
6:30 PM- 7:30 PM
Tuition: $15
For many of us, the holidays can bring up feelings of guilt associated with food. With family and friends baking lots of sugary treats, it can be hard to resist overindulging. How can we enjoy the holidays and feel good about what we're eating? This class will give you tips on how to maintain a balanced intake of food this holiday season. You'll learn about superfoods that are easily added into your favorite holiday dishes. You'll also receive some delicious and healthy recipes to try for your festive celebrations. 
About the Instructor: Erika Barnhill has a passion to share her knowledge about nutrition and good health with others. She recognizes that we live in a world where people are not experiencing the healthy vibrancy they are meant to. In fact, the opposite is true: people are often sick and over-medicated, yet still unaware how much diet and lifestyle are responsible. 
Erika says, "I worked  in a hospital setting with cardiac and pulmonary patients with many people who needed change and needed answers. A health crisis led me to learn how to take a more holistic approach to healing my own body through research, study, and prayer. I have a Bachelor's degree in kinesiology and certification as a health and wellness coach. I'm happy to say I am healthy and well today with a busy life as a wife, mother, and health coach while  homeschooling four amazing children.. Finding balance in our busy lives is so important, and it is possible to live every day to the fullest, feeling healthy and well.