Filter by Category
Natural Products
Registration Unavailable
St. John's Wort
with Jaime Brennan

Jul 19, 2019 at 9 am
Thursday, July 19, 2019
9:00 AM - 11:00 AM
Tuition: $20
Creating a personal relationship with a plant deepens your understanding of the plant, making a connection that allows the plant to work on a different level with you. In this class we'll be getting to know St. John's Wort, a non-native plant that is known to help with depression, nerve damage, relaxation, and so much more.
We will spend some time outdoors getting close and personal with this plant, so wear long pants. We'll collect some flowers and buds and then return to the Folk School to start a sun-infused oil.
Please bring a wide-mouth canning jar, either a pint or quart depending on how much you want to make, enough olive oil to fill the jar, a sharp knife, and a cutting board.
About the instructor: Jaime Brennan About the instructor: Jaime Brennan can always remember having a special relationship with the plants that grew around her. She began learning how to use them to improve her own health in 2006. Feeling the benefits of herbs, she wanted to share this knowledge with others and began offering classes and products. Her personal passion is to use her knowledge, experience, and different tools to help others create tranquility: a body in balance, a mind at ease, and a satisfied soul. To learn more about Jaime and what she offers, visit www.tranquilitywellness.center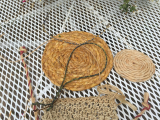 Registration Unavailable
Weaving with Basswood Bark Twine
with John Zasada

Jul 21, 2019 at 8:30 am
Sunday, July 21, 2019
9:00 AM - 4:00 PM
Tuition: $60 Materials: $20 
If you'd like to continue the exploration, you can sign up for Sunday's class. We will continue to make twine and braid for an hour or two and then use the braid, in particular, to make coiled small mats and hot pads. The bark will be available in natural color and dyed with RIT dye to jazz up the handmade items.
If you have ideas for creating your own project using the basswood bark you are welcome to give it a try. For those of you who are knitters, you can bring your knitting needles and knit the twined or untwined bark. A main purpose of this class is to provide beginners and folks with experience using basswood to learn more about this material and share their experience and ideas.
Using the twine and braid you have made in Saturday's class along with materials from John, you will learn how to weave it into a small mat, hot pad, or small basket, or use the whole bark layer to make a folded berry basket. John harvests all of the materials from around Grand Rapids.
About the instructor: John Zasada worked for 40 years as a research forester for the USDA Forest Service in Alaska, Oregon, Wisconsin, Michigan, and Minnesota. He learned to weave after retiring from the Forest Service. John believes in the importance of folk schools and has taught a number of classes at the North House Folk School and here in Ely.