Filter by Category
Leather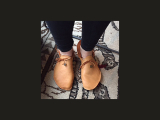 Craft a Custom Fit Moccasin
with Donna Mienk

Aug 24, 2019 at 9 am
Saturday, August 24, 2019
9:00 am - 5:00 pm
Tuition: $80 Materials: $35

Moccasins are the best natural footwear ever devised. Warm, light & lithe, they're said to give you "magic feet" that can be rolled up and taken with you to parties, and worn inside your own home. 
You will learn to create a pattern for deerskin moccasins, customized to fit your feet. This style of moccasins is a two-piece style, all hand-sewn. YAt the end of the class, you will either have a pair of completed moccasins or possibly have some work left to do at home. 
Students should bring pliers and scissors. Feel free to bring any beads you may have to decorate the top with one special bead or a simple design. 
About the Instructor: Donna Mienk has her own moccasin-making business and has taught the process for many years. View her craft at her Mienko's Moccasins facebook site.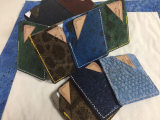 Make a Wallet from Fish Leather
with Joe Manthei

Sep 6, 2019 at 1 pm
Friday, Sept. 6, 2019
1:00 PM - 4:00 PM
Tuition: $30  Materials: $25
Learn to make a small minimalist wallet out of fish leather. The wallet can be used for credit cards, cash, or business cards. Students will use a pattern to cut out the fish leather pieces and hand-stitch them into a functional, durable minimalist wallet using Tiger thread from Germany. The wallet measures 3" x 4" and contains two card slots.
No experience necessary. Class instruction will include different hand-stitching techniques and how to choose which method will work the best. Students will practice hand-stitching techniques before working on their wallet. Joe will also present a brief history and status of fish skin tanning in the world.
About the instructor: Joe Manthei started working with fish leather during a life-changing vacation to Iceland and turned it into a business, Fiskur Leather. Starting with bookmarks, he moved on to creating quilt-block artwork, cell phone cases, wallets, tote bags, laptop bags, briefcases, toiletry kits, and more.
Joe's career path started as a chiropractor, specializing in clinical nutrition, in which he offered post-graduate seminars. He  later earned an RN degree, and built medical software and trained personnel to use it. He has taught students of all ages from elementary students to adults. Joe and his wife, Pam, live in Mora Minnesota. Although retired from nursing in 2015, he currently works in the Mora school district as a substitute teacher/substitute school nurse when not creating with fish leather.