Filter by Subcategory
Health & Beauty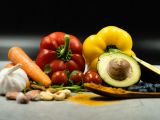 Reducing Anxiety with Nutrition - Live Online
with Erika Barnhill

Dec 1, 2020 at 6:30 pm
Tuesday, December 1, 2020
6:30 PM- 7:30 PM
Tuition: $10
Life can seem crazy and anxiety can be high but there are healthy choices you can make to help deal with it. In this class you'll learn about what causes anxiety and how your food choices might be aggravating the feelings. We'll also cover disciplines you can change in your daily life to reduce anxiety, and some supplements and essential oils that are also helpful in finding and maintaining emotional balance.
About the Instructor: Erika Barnhill has a passion to share her knowledge about nutrition and good health with others. She recognizes that we live in a world where people are not experiencing the healthy vibrancy they are meant to. In fact, the opposite is true: people are often sick and over-medicated, yet still unaware how much diet and lifestyle are responsible. 
Erika says, "I worked  in a hospital setting with cardiac and pulmonary patients with many people who needed change and needed answers. A health crisis led me to learn how to take a more holistic approach to healing my own body through research, study, and prayer. I have a Bachelor's degree in kinesiology and certification as a health and wellness coach. I'm happy to say I am healthy and well today with a busy life as a wife, mother, and health coach while  homeschooling four amazing children.. Finding balance in our busy lives is so important, and it is possible to live every day to the fullest, feeling healthy and well.
All Things Chaga: Live Online
with Allie Austin

Dec 2, 2020 at 5 pm
Wednesday, December 2, 2020
5:00 PM- 7:00 PM
Tuition: $20 Materials $35
Did you know, growing on our birch trees is one of the most powerfully medicinal mushrooms in the world? In this class, we will learn how to identify, harvest, and utilize this medicinal powerhouse for both internal and external use. You will receive recipes for Chaga remedies and creative ways to use Minnesota's most treasured fungi! You will also receive some samples of chaga to try at home, which you will receive before of after class depending on when you register.
About the Instructor: Allison Austin has been practicing herbalism for over 13 years. Her passion for plants and herbal medicine began in middle school, and has continued to play a central role in her life ever since. She has studied under herbalists in Minnesota, California, Texas, and with Mayan elders in Guatemala.
Allison is passionate about bringing the traditional practices of herbalism to people in a practical and accessible way, and encouraging people to utilize herbs in their local area to become more self-sustainable and take charge of their own health.