Filter by Category
Harvest Moon Festival
Mushroom Cultivation: Three Ways to Grow Gourmet Mushrooms at Home
with Nik Prenevost

Sep 11, 2021 at 11 am
Saturday, September 11, 2021
11:00 AM - 12:00 PM
Tuition: $25
Mushroom growing is gaining in popularity as people are better understanding the health benefits as well as the culinary value. Various mushrooms have peaked peoples interest for home cultivation. Growing shiitakes, lion's mane, wine caps and oyster mushrooms are an excellent way to easily grow mushrooms for your own consumption.
The class will cover three different methods to grow mushrooms year round. These three methods range from beginner to intermediate so anyone could participate, even kids! Mushroom growing is a unique experience that brings learning opportunities for growing your own food.
Grow your food. Eat your mushrooms.
About the Instructor: Nik Prenevost cultivated mushrooms at Mississippi Mushrooms LLC for seven years from 2012-2019 and is currently a consultant for growing mushrooms in the Twin Cities. 
"I believe in supplementing your diet with locally sourced food that you have grown yourself. It is the ultimate way to know what it is in your food and what inputs it took to grow it. Cultivating mushrooms is one of the most satisfying forms of growing food I have experienced, especially since the turn around is so quick in comparison to tradition garden growing plants. Fungal farming is an exciting adventure that keeps me learning new techniques to cultivate but also insights into how our own biome works. When I grow mushrooms, I feel so connected to the food source and the final dish tastes that much better. I want to help people learn through easy techniques to grow mushrooms and be apart of this growing trend."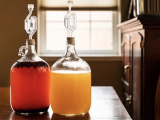 Mead Making: Let's Ferment Some Honey!
with Nik Prenevost

Sep 12, 2021 at 11 am
Sunday, September 12, 2021
11:00 AM - 12:00 PM
Tuition: $25
Mead has been touted as one of the earliest forms of alcohol. Combining honey, water and yeast, this fermented beverage is one of the easiest and delicious ways to imbibe. It is gaining in popularity especially because of its gluten-free nature. 
This class will teach you how to properly make, age and store mead like a pro. Nik will share tips gained from years of experience fermenting in a commercial setting to help make your mead stand out from the rest. Details will cover honey types, yeast strands, fermentation tips, flavor additions and clarifying and stabilizing your mead. 
During the class, we will make an entire batch of mead together and we will raffle off the product to take to your home to finish the fermentation ($170 value). By the end of the class you will learn how to easily make delicious mead in up to 5 gallon batches that you can drink and share with your friends and family.
About the Instructor - Nik Prenevost: I am the Assistant Mead Maker at the White Bear Meadery (WBM) in Gem Lake. The first and only true Meadery in the state of Minnesota, WBM provides up to 20 meads on tap and continues to grow in size as a business and varieties of mead it produces. From traditional meads to cider or root beer meads, I have made them all and have experienced first hand with the successes and failures of experimentation in the industry. From the first time I tasted mead in Tampa, FL I came home to Minnesota in search of the 'nectar of the gods'. Enter White Bear Meadery. Working in a commercial setting with the Owner and founder, Josh Eckton, has ramped my mead making experience up from none to incredible meads.