Filter by Subcategory
Food & Cooking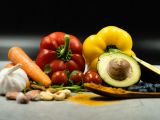 Reducing Anxiety with Nutrition - Live Online
with Erika Barnhill

Dec 1, 2020 at 6:30 pm
Tuesday, December 1, 2020
6:30 PM- 7:30 PM
Tuition: $10
Life can seem crazy and anxiety can be high but there are healthy choices you can make to help deal with it. In this class you'll learn about what causes anxiety and how your food choices might be aggravating the feelings. We'll also cover disciplines you can change in your daily life to reduce anxiety, and some supplements and essential oils that are also helpful in finding and maintaining emotional balance.
About the Instructor: Erika Barnhill has a passion to share her knowledge about nutrition and good health with others. She recognizes that we live in a world where people are not experiencing the healthy vibrancy they are meant to. In fact, the opposite is true: people are often sick and over-medicated, yet still unaware how much diet and lifestyle are responsible. 
Erika says, "I worked  in a hospital setting with cardiac and pulmonary patients with many people who needed change and needed answers. A health crisis led me to learn how to take a more holistic approach to healing my own body through research, study, and prayer. I have a Bachelor's degree in kinesiology and certification as a health and wellness coach. I'm happy to say I am healthy and well today with a busy life as a wife, mother, and health coach while  homeschooling four amazing children.. Finding balance in our busy lives is so important, and it is possible to live every day to the fullest, feeling healthy and well.
Making Pasties and Mulled Wine: Live Online
with Lacey Squier

Dec 12, 2020 at 7 pm
Friday, December 11, 2020  7:00 PM - 8:00 PM
Saturday, December 12, 2020  3:30 PM - 5:00 PM 

Tuition: Free! 
Many people will say that the most important part of the Holiday Season is being surrounded by loved ones. This year, that is unattainable for many. So we have to turn to the second most important piece of the holidays: delicious, homemade food! In lieu of the Ely Folk School's holiday party, we are celebrating our community with this free, two-part cooking class. Pasties and mulled wine are two dishes with rich histories in our region. Both are full of flavor and highly customizable. We had hoped to serve you pasties and mulled wine at a holiday gathering but in light of the pandemic, are energized instead to share favorite versions of these recipes. On Friday, we will make mulled wine and prepare our pasty dough, then on Saturday we will prepare our pasty filling and get ready to cook! Be ready for a festive class and two sessions of fun and friendly cooking! 
A recommended ingredient list will be sent out upon registration for class.

About the Instructor: Lacey Squier loves cooking food of all kinds. She is an amateur cook who spends much of her free time learning how to recreate dishes from her favorite restaurant and travel experiences. It is liberating to realize you can have anything you want for dinner ... as long as you're willing to make it yourself!
When not experimenting with food at home and making a huge mess of her kitchen, Lacey likes to take walks or go on a hike with her spouse, Eric, and their dog Wendell. She is also learning Portuguese and dreams of visiting Brazil again. Lacey works at Ely Family Dental and serves as a member of the Ely Folk School Board.