Filter by Subcategory
Food & Cooking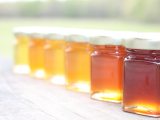 Honey Tasting
with Deb Funk

Mar 31, 2019 at 3 pm

, runs for 1 week
Sunday, March 31, 2019
3:00 PM - 5:00 PM
Tuition: $20  Materials: $20
Good honey is just as layered and complex as wine, chocolate, and olive oil.  Become a honey connoisseur by tasting several different honeys from many locations around the world and describing their different accents.  Learn about how honey bees actually make their particular flavor of honey, the different grades of honey, and what foods are perfect companions with honey. Come taste the difference that each honey bee can make.
About the Instructor: Deb Funk began raising honey bees as a hobby after retiring. Through that experience, she came to learn how important they are to our food supply. She was trained on sensory analysis when learning how to taste the different varieties of honey.
Honey Walnut Potica
with Mary Louise Icenhour

Mar 30, 2019 at 9 am
Saturday, March 30, 2019
9:00 AM - 1:00 PM
Tuition: $40, Materials: $8
Learn how to make the renowned pastry associated with Ely's Slovenian heritage. You'll make the dough, learn how to roll it just right, then create and add the walnut filling, and bake to take home your own delicious potica. Enjoy learning from Mary Louise Icenhour in our wonderful teaching kitchen from her mother's recipe (Rose Mavetz).  Bring your own rolling pin, Mary will provide all the ingredients. 
About the Instructor: Mary Louise is an Ely native & retired teacher who loves to share her passion for traditional skills & teaches our Pine Needle Basketry, Apple Strudel, Pasty and Canning classes and serves on the Board of Directors.
Will run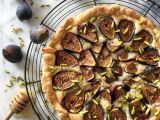 Puff Pastry and Fruit Tarts
with Kay Vandervort

Mar 31, 2019 at 1 pm
Sunday, March 31, 2019
1:00 PM- 4:00 PM
Tuition: $30 Materials: $9
In this class you will make and eat a fruit tart sweetened with honey. Every student will make their own puff pastry to take home to enjoy immediately or freeze for up to six months. Although a recipe will be used for making the puff pastry, the class will also consider creative ways the pastry can be used in appetizers and deserts.
Puff pastry is a delicate, light, and flaky pastry that can be used in countless different ways. You might also know it by its French name: pâte feuilletée. What makes them unique is the butter layered within the dough, creating hundreds of flaky layers. This process is called "lamination." When the cold butter goes into a hot oven, steam is released, causing all those layers to separate and the pastry to puff up sky high.
Note: Students are asked to bring their own rolling pin to the class.
About the Instructor: Kay Vandervort has a degree in secondary education and taught both in high school and technical college before moving to a career in not for profit management. She has facilitated trainings at both regional and statewide conferences on topics related to non-profit marketing, volunteer management, and volunteer recruitment and screening. She has taught several jewelry and polymer clay classes in the past at the Ely Folk School. Kate says; "To me, cooking, and particularly baking is an artistic expression that calls for a pinch of this and a dash of that with a heavy dose of experimentation."