Filter by Category
Fiber Arts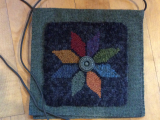 Beginning Rug Hooking
with Bonnie Lundorff

May 5, 2018 at 12 pm
Saturday, May 5, 2018
12:00 PM - 5:00 PM
Tuition: $50 Materials: $35
Dating back to the 19th century rug hooking has been a popular way to create beautiful rugs using wool strips. This updated version uses a punch method with the same results as traditional hooking.
Students will make a small project while learning to use the Oxford rug punch tool, which will be supplied for use in class along with a 10" hoop.
About the instructor: Bonnie Lundorff owns the Willow Wood Market, a quiltshop and wool studio, and has been sharing her love of fiber arts for 20 years. She teaches wool appliqué, quilting, needle felting, and rug making at fiber arts events, at her store and throughout the upper Midwest. She designs simple-to-make projects for her students and customers. One of her designs was recently published in a nationally known fiber arts magazine, Wool Works. Bonnie lives in the woods south of Bemidji with her husband Tim and a cranky little 16-year-old dog.
Wild Colors: Natural Dyeing with Local Plants
with Theresa Hornstein

Jun 23, 2018 at 9 am
Saturday, June 23,2018
9:00 am - 2:00 pm
Tuition: $60 Materials: $15
Minimum age: 12
In this class, you'll learn how to turn invasive, unwelcome plants (like tansy and buckthorn) into beautiful colors. We will experiment with natural dye materials you can mine in your own back yard and garden, learn how to prepare different dyes, and how to use modifiers to expand the range of colors.
If there's time and interest, we'll take a walk to identify a few natural materials you can use. Students need to bring clothes and footwear appropriate for walking.
About the instructor: Theresa Hornstein has always been fascinated with color, fiber, and experimenting with traditional crafts. As a teenager she began dyeing her own fibers for knitting, crochet, and felting.