Filter by Category
Birding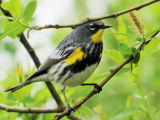 Birding by Ear
with Steve Engel

May 22, 2021 at 7 am
Saturday, May 22, 2021
7:00 AM - 8:30 AM
Tuition: $15
Northern Minnesota hosts a colorful variety of nesting songbirds each summer, from chestnut-sided warblers to goldfinches. Each species has a colorful song and this class focuses on learning to match the song with the singer while in the field. The full class is composed of weekly meetings through May 22 which can be signed up for individually. Each class will last 90 minutes, which take place at key local sites within 15 miles of Ely. Please meet at the Ely Visitor Center, junction of Sheridan Street and Highway 1, and be ready to leave by 7 am.
This class will be held outdoors. Some students may choose to carpool, but that is not necessary. CDC and MN Health guidelines will be observed. 
About the Instructor: Steve Engel has been an avid student of birds since 1985. He has conducted birding by ear field research and for six years led weekly birding by ear outings for the public each April and May. This will be his first spring in the Ely area in many years. The best kind of teacher is a highly motivated learner and teacher. That is to say, let's learn the songs together. All we need is focused time in the field and that's what this class provides.
Steve has a B.S. in Natural History from Evergreen State College, Olympia, WA. He said, "I have worked as an environmental educator, field biologist, shipboard naturalist, natural history trip leader, education director, artist, and writer. There are millions of things to learn and teach, and my mission is to keep learning and keep teaching. I enjoy helping others explore and discover answers to their natural history questions".
Will run