Filter by Category
11 November 2021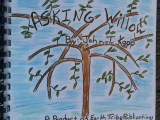 Writing With Your Child, For Your Child
with John Kopp

Oct 14, 2021 at 6:30 pm

, runs for 6 weeks
Thursdays, October 14, 21, 28 & November 4, 11, & 18, 2021
6:30 PM - 8:00 PM
Tuition: $60  Materials: $20
This class takes place over the course of 6 Thursdays. By the end of class, you and your elementary schooler will have written and illustrated your own book! 
This 6-week class (one session per week) was designed for parent & child pairs. The intention is for each pair to write their own personalized children's book. There are no prerequisites or level of skill necessary. In recognition that attending all 6 consecutive sessions can be challenging, the class is designed to accommodate the occasional missing of a session.  
The story line for your book will reflect values you identify as those your family hold dear. This allows your child to learn more about what is important in your family. The main characters will be identified/selected by your child because they are looked up to, superheroes or other popular characters. The writing and illustrating will occur during class sessions and at home between classes.
A tangible outcome is intended to be a 16 to 32 page illustrated children's book. The instructor will use one he has written, "Asking Willow", as a model for teaching, but individual creativity will be encouraged. The original version of you and your child's book (manuscript) will make a great family keep sake. A photocopy of the manuscript can be easily bound and made into a wonderfully personalized gift for someone important in your child's life, such as a grandparent.  
The class was developed for children 8 years of age, but it is applicable for a couple years either younger or older. It was also developed from the idea that by working in a group setting, learning can occur that is well beyond what any of us can anticipate. It leads us on a journey in the experience and development of community, a sense we are there for each other.
A small group allows from participation and support from the instructor. The ideal class size is eight parent-child pairs. So, while still a small group, it is large enough to generate a wealth of creative energy.
The class presentations and activities are designed to be individualized for each parent child pair. While specific techniques are demonstrated, and specific activities are set up, you are the expert on your child's preferred modes of learning.  
During the first session, parents receive a handout that serves as a reference to important points covered during the class and why various activities are selected. Materials for writing and illustrating will also be handed out. They are presented as a gift addressed to your child and you. It is a way to help your child understand just how much their involvement in the class is appreciated.  
The class philosophy comes from an understanding that if it is made enjoyable, your creativity will flourish. The criteria for determining if the class was worthwhile are intangible. Did you and your child enjoy the class? Does your child know more about values your family hold dear? Do you feel you and your child learned to create at a higher level? Do your feel your child has had some seeds planted that will help in making good choices? Did you and your child feel inspired and supported by the group?  
Contact information is listed below. Please feel free to reach out if you have questions you would like to discuss before deciding whether or not to sign up.  
Questions on the class can be directed to:
John Kopp, class instructor
701-805-5405
johnmedrock@gmail.com
Only one registration per parent-child pair is necessary. 
About the Instructor: John Kopp has had a career of experiences working withparents and children of all abilities. After graduating from NDSU with a master's degree in psychology, he spent the next 37 years working with families and caregivers in the development and implementation of positive ways to work with challenging behavior. He knows firsthand the importance of families connecting around important values and having fun in the process.
While living in Eastern North Dakota he and his wife regularly brought their children to Minnesota to camp, hike, and canoe. Some of his favorite memories with his family were visits to Ely, and now he has moved here to enjoy it every day. He likes to boast that his kids are jealous that he gets to live up here in the Northwoods. John is a member of the local Writers Group and you can see his and other group members writings in a collection entitled Just Breathe in the Ely Summer Times 2021.
A Quiltmaker's Journey: A Trunk Show and Lecture
with Helen Smith Stone

Nov 13, 2021 at 2 pm
Saturday, November 13, 2021
2:00 PM - 3:00 PM
Tuition: $20
Helen has been a quiltmaker for over 40 years and is passionate about her art form. In this one-hour Lecture/Trunk Show, you will hear what inspired Helen to become a quilter, see how her quiltmaking style has changed over the years, and learn who has influenced her work and why. While showing 20-25 quilts, Helen will share some of her proudest achievements as well as some of her challenges along this creative journey. She hopes to inspire you to become a quiltmaker, too; or, if you already make quilts, to try some new techniques. Be sure to stay until the end of her Trunk Show so you can see the quilts up close and ask questions.
About Helen Smith Stone: Helen is the founder/owner of Quilting on the Waterfront (QTW), a small business that focuses on providing education to quiltmakers ~ machine piecing, machine quilting, and art quilting techniques. She especially enjoys teaching "beginner" quilters, helping them get off to a good start.
Helen's first experience with needles and thread was at the age of eight when her mother taught her hand-embroidery. Later, she became interested in sewing machines, and her journey of working with fabric and thread began. Home Economics, 4-H classes, and good teachers propelled Helen forward into first sewing doll clothes and later making clothing for herself. But, when she saw her grandmother's collection of quilts, she was smitten! "I knew then what I wanted to learn – how to create quilts!" Many years later, she made her first quilt – a baby quilt for her son. From there, quiltmaking became Helen's passion and art form. She has been making quilts for over 40 years.
An award-winning quilter, Helen presented a quilt show/conference (Quilting on the Waterfront) at the Duluth Entertainment Convention Center (DECC) in 2002, 2004, and 2006, bringing in over 6,000 attendees each year. She continued to produce smaller quilt shows at The Inn on Lake Superior-Duluth until 2012. She enjoys teaching and sharing her quilts through Trunk Shows, workshops, and special exhibits.
Helen's work has been published in Joanne Larsen Line's books: Quilts from the Quiltmaker's Gift, and More Quilts from the Quiltmaker's Gift. She has also been featured in a machine quilting book by Sue Nickels, Machine Quilting: A Primer of Techniques; in a paper-piecing book by Claudia Clark Myers of Duluth, A Passion for Piecing; and in three QuiltArt Engagement Calendars by American Quilters Society (AQS).
In 2001, Helen started a quilt guild to help educate and inspire new and experienced quilters and to encourage the making and donating of quilts to local charitable organizations. Northern Lights Machine Quilters Guild (NLMQG) is based in Duluth and has 70 members.
Helen worked in the education profession for over 35 years: The Marshall School, Duluth Public Schools, KUMD-Public Radio, WDSE-Public TV, and the University of Minnesota Duluth (UMD). She participates in a variety of online classes and strongly believes in lifelong learning. One of her favorite quotes is: Never stop learning because life never stops teaching. - Author unknown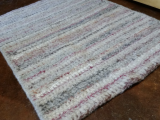 Felted Crochet Wool Rug: Live Online
with Laura Berlage

Nov 13, 2021 at 2 pm

, runs for 3 weeks
Saturdays, November 13, 20, 27, 2021
2:00 PM - 4:00 PM
Tuition: $85   Materials: $145  Shipping: $17
Registration closes on November 3rd.
Have you ever accidentally felted something in the wash—oops! Or have you seen felted knits and wondered if you could do that with crochet?  This class not only unlocks the process and tricks for felted crochet but also lets you felt in the wash and by hand on purpose to make a beautiful, durable wool rug. And guess what, you can machine wash that rug later, for happy bare feet for years to come! If you know how to make chain and single crochet stitches, you'll be good to go. And I guarantee that one you get the knack for it, you're stash of odds-and-ends wool yarn will soon be put to use making more. If you want to bring some of that stash to our Zoom class, I'm happy to help coach you and what would or would not work well for incorporating into your rug.
Approximate finished project dimensions:  23 x 32 inches. (Unfelted dimensions about 29 x 37 inches) 
Students will receive a supply kit in the mail prior to class. Here's what is included: 
Adequate yardage of your color choice wool from our farm's sheep and Icelandic lopi (4 skeins lopi, 3 skeins colored wool)
Written pattern and felting instructions
Access to video tutorials of me demonstrating the key steps in the process, for review or in case you have any troubles using Zoom
This is what you would need to have on hand for completing the project:
Size N crochet hook (yup, it's big)
Tapestry needle for burying ends (if you like that technique)
A washer and dryer (if you choose to use a laundromat, that's fine, just repeat the steps you learn for this part when it works for you)
Non-detergent bar soap (for hand-felting, doesn't need to be much)
A utility sink (a bath tub or large bin could also work if you don't mind kneeling)
A couple older beach or bath towels
A space to block your rug that is water-resistant (this could be the top of a chest freezer, a tile floor, or a table covered in plastic)
Students can choose from four color schemes: Autumn Orange; Forest Green; Bayside Blue; and Frosted Purple. Upon registration, you will receive an email with photos of each option. 
Contact us prior to registration if you would like to use your own yarn and colors. You will need 440 yards of a coarse lopi and 440 yards of colored, wool yarn of your choice. 
About the Instructor: Laura Berlage is a contemporary Renaissance woman living and working on her family's century-old homestead farm outside Hayward, WI. From fiber arts to creative writing, music to storytelling, she never tires of the magic of transforming ideas into form and overlapping narrative and visual.
Laura also loves working with the many and beautiful natural materials from her farm—especially the wool from her sheep. Completing her MFA in Interdisciplinary Arts at Goddard College in 2011, Laura continues her lifelong passion for learning with engaged, hands-on teaching for small groups to encourage creativity, imagination, and expression.