Filter by Category
11 November 2019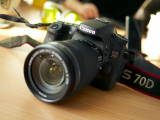 Intro to Digital Photography
with Ken Hupila

Nov 15, 2019 at 9 am
Friday, November 15, 2019
9:00 AM- 2:00 PM
Tuition: $60 Materials: $5
This class is intended for beginner to intermediate photographers, and it's just in time for you to get ready for the winter season!
Equipment selection: camera, lens, tripods, shutter releases, flash and a few other odd and ends
Camera and lens use: menu, knobs, buttons, care and manuals
Theory: shutter/ aperture / ISO relationships and how to use them to the best advantage of your settings
Composition techniques and special situation camera setting to create good photographs
This course will begin in the classroom and then will head outside to try out techniques presented. Bring a digital camera and manual to class, DSLR preferred but not mandatory. Also, bring a tripod and shutter release if you have them, as well as a bagged lunch.
About the instructor: Ken Hupila says, "I live in northern Minnesota and have been interested in photography since I won a box camera at a carnival when I was six. The last couple of years have finally seen an opportunity when finances and free time have allowed me to begin playing with the interest. I have been taking nature shots and sport photos for awhile and am just beginning to play with studio photography."
Ken's photography classes at the Ely Folk School have been very popular. He also offers Advanced Photography, Photographing Wild Orchids, Capturing Fall Colors, and Introduction to Photoshop.
Introduction to Adobe Lightroom Classic CC
with Les Conrad

Nov 9, 2019 at 9 am
Saturday, November 9, 2019  9:00 AM - 12:00 PM
Sunday, November 10, 2019  9:00 AM - 1:00 PM
Tuition: $70  Materials: $10
This class is for any photographer who wants to improve their photos. Whether you are a beginner or advanced photographer, this class will help you to better understand Adobe's popular photography editing program Lightroom Classic CC. All photographers need to organize, edit and share their photography. Lightroom can do it all (well almost all). 
This is a hands-on class. We will explore many of the most important tools in Lightroom. Key topics include but are not limited to import, organize and rank photos, basic and intermediate editing tools, Lightroom workflow, adding watermarks and exporting photos, and much much more. No experience with Lightroom Classic CC needed.
Learning will be enhanced if you are able to bring your computer with Lightroom Classic installed. There will be plenty of time for your questions. I'll provide sample images to work on.
About the instructor: Les is a local artist/photographer who focuses on the beauty of the natural world. Les says, "The night sky never ceases to amaze me. We are very lucky to live with some of the darkest night skies around!" Les spent his working life photographing portraits of people. Once retired, Les turned his lenses and attention toward nature, wildlife and landscapes, with particular attention to the night sky. Les moved from the Twin Cities to Ely when he retired.
Les has many years of experience teaching beginning adult photographers including a two-day session at the International Wolf Center. He also presented an "Editing Your Aurora Images" session at the Aurora Summit 2017 in Two Harbors, MN. He knows how to simplify explanations using real world examples so that all learners understand the content.
Made to Fit: Custom-fitted Blouse
with Candace Bischoff

Nov 7, 2019 at 11:30 am
Thursday, November 7, 2019
12:00 PM - 4:00 PM
Tuition: $40  
Do you find shopping for a blouse that works for you is just about impossible? The styles are just not right or the fabrics are all wrong, the cost is exorbitant or they just don't fit right. Well, this class will give you the information and skills to take just a very basic blouse pattern and create a wide variety of blouses. What style of collar do you want? Sleeve length? Cuffed? Fitted or not? Long tails or tuck-in length? Hem straight or scalloped? Your imagination is the only limit you have to having a closet full of fun blouses that fit your style, budget and size.
Students need to purchase before the class: 2-1/2 yards of fabric of choice, 1/3 yard light-weight interfacing [I prefer iron on], matching thread, 6-8 buttons [Can purchase locally at Mary's Spinning Wheel]. Also bring pins and a sewing needle for some hand stitching.
About the instructor: Candace Bischoff has been called a crafting fanatic. She sews, knits, crochets, embroiders, and does cross stitch, needlepoint, and smocking. She's game to try almost any craft at least once, often combining crafts such as sewing and embroidery. Candace says, "My grandmother introduced me to the sewing machine when I was 10, and I have sewn Barbie Doll clothes, prom dresses, my wardrobe from junior high school to the present, as well as many garments for friends and family. I get frustrated with the clothing available today in the stores and make most of my own garments or alter the style or fit of store-bought items. I love making things unique to my need and styling.
I love helping people learn a new craft and see how much fun they have with the new knowledge and skill.