Filter by Category
10 October 2020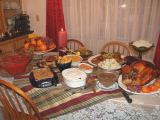 Healthy Through the Holidays Live Online
with Erika Barnhill

Oct 29, 2020 at 6:30 pm
Thursday, October 29, 2020
6:30 PM- 7:30 PM
Tuition: $15
For many of us, the holidays can bring up feelings of guilt associated with food. With family and friends baking lots of sugary treats, it can be hard to resist overindulging. How can we enjoy the holidays and feel good about what we're eating? This class will give you tips on how to maintain a balanced intake of food this holiday season. You'll learn about superfoods that are easily added into your favorite holiday dishes. You'll also receive some delicious and healthy recipes to try for your festive celebrations. 
About the Instructor: Erika Barnhill has a passion to share her knowledge about nutrition and good health with others. She recognizes that we live in a world where people are not experiencing the healthy vibrancy they are meant to. In fact, the opposite is true: people are often sick and over-medicated, yet still unaware how much diet and lifestyle are responsible. 
Erika says, "I worked  in a hospital setting with cardiac and pulmonary patients with many people who needed change and needed answers. A health crisis led me to learn how to take a more holistic approach to healing my own body through research, study, and prayer. I have a Bachelor's degree in kinesiology and certification as a health and wellness coach. I'm happy to say I am healthy and well today with a busy life as a wife, mother, and health coach while  homeschooling four amazing children.. Finding balance in our busy lives is so important, and it is possible to live every day to the fullest, feeling healthy and well.
Rustic Chair or Bench
with John Bajda

Oct 31, 2020 at 9 am
Saturday, October 31, 2020
9:00 AM - 4:00 PM
Tuition: $70
A rustic chair, rocking chair, or garden bench makes a great addition to your yard, patio, or deck. This class walks you through making your very own rustic furniture using sticks that you can collect from your local forests and yard. 
You will learn about the techniques and tools necessary to build a strong, sturdy chair or bench using mortise and tenon joints. Tools include a tenon cutter, drill press, and miter saw.
If you want to make a rocker, John can make the seat and rockers for you for $30. He will also send a pattern if you prefer to make your own. Let the Folk School office know that's your choice. 
You can make the bench out of any species of sticks, but some of the longest-lasting would be from cedar, although other species will last for a long time if the bench is protected from extreme weather. At the end of the day, you'll head home with a beautiful and unique piece for your home! 
It is recommended to have a partner working with you. The partner does not need to pay unless they also make their own chair or bench. 
About the instructor: John Bajda is a retired high school teacher and has been teaching how to build rustic furniture through his local community ed program for the past 18 years. He gets five stars from students for his patient, thorough, cheerful instruction.
Blacksmithing - The next step
with Phil Leino

Oct 31, 2020 at 10 am
Saturday, October 31, 2020
10:00 AM - 2:00 PM
Tuition: $40  Materials: $15
This class will give students who have taken A Taste of Blacksmithing at the Folk School or who have other previous experience an opportunity to make a variety of S hooks requiring different blacksmithing techniques and that are used in different ways. Students will have a choice of making three different styles or three of the same style.
Anyone who can demonstrate that they have mastered the S hook by making an excellent piece in a short period of time will be able make a more complex piece, a long fireplace poker.
Bring a lunch or be prepared to order in from nearby restaurants.
The classes will be limited to four students. Students must bring protective, fire-resistant gloves, available at local hardware stores for under $10. Safety glasses and aprons will be provided but students should bring their own if they have them. Wear clothing appropriate for working with coals and intense heat.
Social distancing and appropriate COVID restrictions will be in force. Students will be asked to wear masks when appropriate.
About the instructor: Phil Leino is intrigued by the process of taking a static material like iron and dynamically transforming it into something beautiful and useful. He has been instrumental in getting the Folk School blacksmith shop up and running.
Phil grew up in Ely hearing stories about his blacksmith grandfather and working with his Dad fabricating metal tools. After graduating with a Masters in botany and PhD in plant sciences, he picked up more metalworking skills along the way, which he has put to use making equipment needed in his research, creating a functional forge at a high school in Idaho, and demonstrating blacksmithing at Living History Farms in Iowa. He donated the first forge for the Ely Folk School, which was the first step of our blacksmith program.
Will run