Filter by Category
10 October 2018
Beginning Rug Hooking
with Bonnie Lundorff

Oct 6, 2018 at 10 am
Beginning Rug Hooking
Saturday, October 6, 2018
10:00 PM - 4:00 PM
Tuition: $50 Materials: $35
Dating back to the 19th century rug hooking has been a popular way to create beautiful rugs using wool strips. This updated version uses a punch method with the same results as traditional hooking. Students will make a small project while learning to use the Oxford rug punch tool, which will be supplied for use in class along with a 10" hoop.
About the instructor: Bonnie Lundorff owns the Willow Wood Market, a quiltshop and wool studio and has been sharing her love of fiber arts for 20 years. She teaches wool appliqué, quilting, needle felting, and rug making at fiber arts events, her store and throughout the upper Midwest. She designs simple-to-make projects for her students and customers. One of her designs was recently published in a nationally known fiber arts magazine, Wool Works. Bonnie lives in the woods south of Bemidji with her husband Tim and a cranky little 16-year-old dog.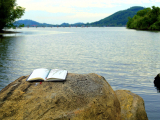 Nature Writing: Autumn in the North
with DyAnne Korda

Oct 6, 2018 at 9 am
Saturday, Oct. 6, 2018
9:00 AM - 4:00 PM
Tuition: $70
As autumn's colorful landscapes peak, we pause to appreciate summer's bounty and prepare for the season to come. Set aside a day at The Ely Folk School on the edge of the Boundary Water wilderness to discover the richness of your inner harvest through nature writing. You will generate written pieces in a supportive group through reading, discussion, contemplation, hiking, and free-flowing nature writing exercises.
About the instructor: DyAnne Korda is a poet, artist, and experienced writing instructor with students of all ages. She has been published in many journals including The Wisconsin Academy Review, and is author of Path of Belonging, Between Moon and Creek, and Finding the Lost Woman. She was awarded an Individual Artist Grant through the Donald G. Gardener Humanities Trust to complete her most recent book, This Earth Woman.