Filter by Category
07 July 2021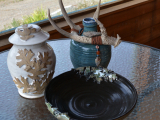 Accessorizing Your Pottery
with Sandy Brandley

Jul 29, 2021 at 2 pm

, runs for 2 weeks
Thursdays, July 29 and August 5, 2021
2:00 PM - 4:30 PM
Tuition: $60  Materials: $10
After you have created a beautiful shape out of clay, the next most important task is to decide how to decorate the surface. Your choices make your work uniquely yours. In this class we will talk about a multitude of methods and materials that can be used to accessorize your work. Topics that will be covered include:clay additions, incised decorations, carved decorations, slip trailing, adding found items, making unique knobs and stamping.
Your homework will be to make one or more pots and bring them in a leather hard state to the second session. Then you'll be try out techniques and materials that appeal to you on your own pieces. Feel free to bring materials you might like to include. You will also be shown styles that you can use on glazed and fired pieces.
About the Instructor, Sandy Brandley: I began throwing pots in earnest 1974 with my first wheel and kiln. I was initially self-taught but continued my education with classes at the University of Minnesota and multiple seminars through the years. A summer session at Lake Superior College with Dorian Beaulieu was the most transformative for me. His attitude was that there are no limits on your creativity, which helped me branch out and create my most widely-praised pottery, using unusual items on pots such as a drill bit from the Pioneer Mine which closed in 1967, an antler found in the woods, or a chunk of greenstone. 
Sandy is a member artist of Art & Soul gallery, and her pottery has also been available at Burntside Lodge, North Country Goods, and local art shows. She has taught several classes in beginning pottery for elementary students as well as classes for adults.
Registration Unavailable
Traditional Swedish Folk Painting
with Kim Garrett
Friday, July 30, 12:00 PM - 5:00 PM
Saturday, July 31, 9:00 AM - 5:00 PM 
Sunday, August 1, 9:00 AM - 1:00 PM 
Please note this is a three day workshop with varying start and end times each day. 
Tuition: $200   Materials: $30
Are you interested in learning about Swedish Folk Art? In this class we will explore the folk painting styles of northern & southern Sweden commonly called dalmalning & bonadsmaling. There are many regional styles, of which we will discuss their similarities and differences based on origins, cultural significance and materials used back in the 17th & 18th centuries. We will then mix our own paints to complete an individual project, based on the styles we have just learned.
All materials for this class will be provided. The student should wear clothing suitable to paint in and bring a notepad for taking notes and for planning their project.
 About the Instructor: Kim Garrett has been painting Scandinavian folk art for about 15 years. She has traveled to Norway and Sweden several times to study with folk artists there. Kim has won many blue ribbons at the Minnesota State Fair, including twice winning Best in Show. She has been teaching around the midwest for several years and started teaching via Zoom in 2020.
Harvesting Spruce Roots
with Charlie Cecil

Jul 31, 2021 at 9 am
Saturday, July 31, 2021
8:00 AM - 12:00 PM
Tuition: $10
Deep in the bog lies a precious resource for those who craft with natural materials. Spruce root is critical for birchbark canoe building and basketry. The beautiful white root can be used for lashing, sewing, and weaving. Because of their strength and flexibility, spruce root is ideal for the task. 
Come learn how to respectfully and safely harvest spruce roots and enjoy a hike while you're at it! Root gathered will be used in the construction of the birch bark canoe currently being built at the Ely Folk School on Sunday afternoons! You will be able to contribute to this community building project and learn the techniques for harvesting your own roots for your own basketry projects. Join the Birch Bark Canoe Project on Sunday afternoon (August 1st) to learn about processing the roots and how it is used in our canoe.
Please dress appropriately for wandering the woods and digging through moss. Consider bringing a bug net! Class will meet at the Ely Folk School and depart in carpools from there. 
About the Instructor: Charlie Cecil has been living and working in the woods of northern Minnesota since 2011 when he began guiding canoe trips for the Charles L. Sommers Canoe Base. Over the years, he has guided many canoe trips, worked with sled dogs, hiked and camped all over the state. He has participated in the Ely Folk School's Birch Bark Canoe Project since the summer of 2017 which has enabled Charlie to learn a wide range of skills that he is excited to share with this community.